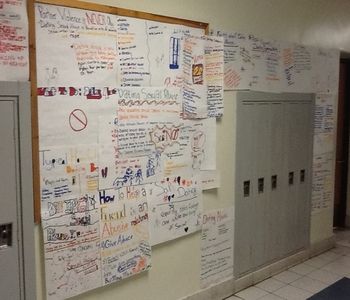 Intimate Partner Violence is a serious health and safety issue for our country and it often starts in adolescents. Teen Dating Violence is very real for many adolescents. Nationally approximately 12% of high school boys and girls surveyed report having been physically victimized by a dating partner in the previous year. Psychological dating abuse is even higher, with over 25% of high school students reporting psychological abuse by a date in the previous year. Young women between the ages of fourteen and seventeen represent 38% of those victimized by date rape. Both girls and boys represent victims of dating abuse as well as perpetrators of it.
The consequences of dating abuse on a young person's physical and emotional wellbeing are significant. Depression, alcohol and drug use, and even suicidal thoughts and actions can result. Certain risks affect girls more than boys and vice-versa, but the overall consequences of dating abuse are serious and can be long-lasting.
The Crime Victims Program addresses the issue of teen dating violence by providing information and victim advocacy to young people in our communities. To promote awareness of this issue and promote prevention of abuse and violence, an adolescent dating abuse prevention curriculum called "Safe Dates" is used. The multi-session program is presented in a school classroom to address the attitudes and behaviors associated with dating abuse and violence. The "Safe Dates" curriculum works well within health education, family life, or general life skills classes for middle and high school students. The Goals of the Safe Dates Program are to:
• Raise students' awareness of what constitutes healthy and abusive dating relationships
• Raise students' awareness of dating abuse and its causes and consequences
• Equip students with the skills and resources to help themselves or friends in abusive dating relationships
• Equip students with the skills to develop healthy dating relationships, including positive communications, anger management, and conflict resolution.
"Safe Dates" helps students examine healthy relationships, recognize unhealthy ones and gives them the tools to help themselves and their friends. While it does not encourage or advocate for dating among young people, it recognizes that these relationships do form on many levels between young people, and that sometimes they become difficult or even dangerous.
Dan Cirigliano, Health Teacher at Bainbridge Guilford Central Middle-High School, had this to say about the Safe Dates program: "Recently my [middle and high school] health students were able to experience/benefit from the presentation that June Georgia gave to them over a series of classes. Her knowledge of the topics in abuse and her experience working with the victims was more than I could have shown and for that the student where able to grow and learn. We appreciated her coming in and feel it was most beneficial.
For more information about "Safe Dates", contact June Georgia at 607-334-8244.