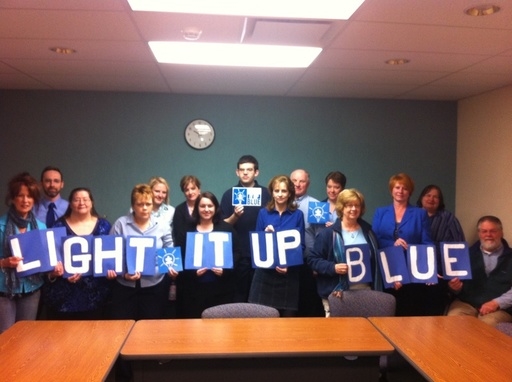 April is Autism Awareness month and staff at Catholic Charities dressed in blue on April 2nd in support of Light it Up Blue to help shine a light on Autism.
When a parent learns that their child has a disability or a chronic illness, a journey begins that takes them into a life that is often filled with strong emotion, difficult choices, interactions with many different professionals and specialists, and an ongoing need for information and services as their child grows and changes. Parents may feel isolated and alone, and may not know where to begin their search for information, assistance, understanding, and support. The Family Support Services Program at Catholic Charities can help fill in the gaps by providing families with needed information and assistance to support them on their journey. Therapists Lisa Jackson and Jody Kenyon work with families who have children and adults with a developmental disability, such as autism. They support families with education about the disability, behavior support and counseling services designed to reduce stress, decrease any behaviors that may be occurring, and decrease or eliminate the need for placement options.
A balanced life can go a long way to reducing stress. Parents need to balance their needs along with those of their child, developing a lifestyle that balances caring for family, hobbies, socializing and work. Time management, goal setting and organization can help to reduce stressors. Also, creating time for enjoyable activities and maintain social support.
We put together a list of self-care strategies for parents to help you to better care for yourself and your child.
•RESPITE CARE
The definition of respite is short-term, temporary relief to those who are caring for family members who might otherwise require permanent placement in a facility outside the home. Respite programs provide short-term and time-limited breaks for families of children with a developmental delay and adults with an intellectual disability in order to support and maintain the primary care giving relationship. Respite also provides a positive experience for the person receiving care. When parenting a child with autism or other developmental disabilities is demanding, many parents find that it is important to take time out for themselves. Respite care is an essential part of the overall support that families may need. It can be provided in the home or in a variety of out-of-home settings.
•DEALING WITH FEELINGS
Guilt, anger, resentment, fear, stress, anxiety, depression and grief can be part of the emotional journey faced by parents of a child with a disability. It is normal to feel as if you are going struggling at times, and it does not help to try to deny what you are feeling. There is a reason you are having them, and they will lessen when you have support and when you are ready. Avoid the superhero attitude! Sometimes trying to do it all, with complete patience, courage, understanding, support and sacrifice can be overwhelming. Be prepared for times when you feel like quitting, yelling, leaving and breaking down. Try to be easy on yourself!
•SPIRITUALITY NEEDS
Adults share a need to belong, live a purposeful life, and believe in a greater power. Meeting one's spirituality needs does not always indicate participation in an organized religion. It is the pursuit of a meaningful life. Fulfilling this need offers hope, direction, and acceptance.
•HEALTHY ACTIVITIES
Regular exercise, rest and nutritious food are all necessary in order to withstand stress. Try to plan your day so you get all three. Walking, swimming, yoga, gardening or dancing are good ways to get some gentle exercise. Doing specific relaxation exercises, like listening to pleasant music or meditating, can help you sleep better.
•FRIENDS
Maintain an identity of your own separate from that of being a parent. Keep your links to the world outside; having fun and relaxing are all good for your physical and mental health.
•COUNSELING
Counseling can involve talking to someone who understands and can work with you to give you the encouragement, support and ideas to improve your situation. It can be a way to assist with the many changes in your relationships and roles, as well as dealing with the strong feelings associated with parenting.
Catholic Charities' Family Support Services program can support your family with most of these self care ideas. We also have a Medicaid Service Coordination Department to help you with respite if your family qualifies. Contact Catholic Charities today at 334-8244, ask for Lisa or Jody.
http://www.ccofcc.com/what_we_do/programs/family_support_services.html .