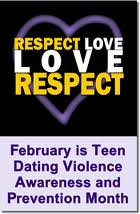 February is Teen Dating Violence Prevention and Awareness Month. This is a national effort to raise awareness about abuse in teen relationships and promote programs that prevent it during the month of February.
Dating violence is more common than many people think. One in three teens in the U.S. will experience physical, sexual or emotional abuse by someone they are in a relationship with before they become adults. Over 65% of teens say they have not talked to their parents about dating abuse. Yet, 80% of parents feel confident they can recognize the warning signs of teen dating abuse. The repercussions of teen dating violence are impossible to ignore – they hurt not just the young people victimized but also their families, friends, schools and communities.
For years, young people across the nation have organized to put a stop to dating abuse. With their adult allies, they achieved a major victory in 2005 when the importance of addressing teen dating abuse was highlighted in the reauthorization of the Violence Against Women Act.
The following year, Congress followed the lead of dozens of national, state and local organizations in sounding the call to end dating abuse. Both Chambers declared the first full week in February "National Teen Dating Violence Prevention and Awareness Week." Then in 2010, they began dedicating the entire month of February to teen dating violence awareness and prevention.
Teen dating violence and abuse is a pattern of destructive behaviors used to exert power and control over a dating partner. While teen dating violence is defined as a pattern, it doesn't mean the first instance of abuse is not dating violence.
While there are many warning signs of abuse, here are ten common abusive behaviors by an abusive partner:
•Checking your cell phone or email without permission
•Constantly putting you down
•Extreme jealousy or insecurity
•Explosive temper
•Isolating you from family or friends
•Making false accusations
•Mood swings
•Physically hurting you in any way
•Possessiveness
•Telling you what to do
There are many online sources for general information, such as loveisrespect.org. Through the site, teens can ask confidential questions and figure out their legal rights and responsibilities. The Crime Victims Program offers free, confidential advocacy services, regardless of age, sex, ethnicity, income, religion, sexual orientation, or disability. To speak to an advocate, call 607-334-8244 during business hours. 24-Hour hotline services are available at 607-334-1101.
Check out these additional resources on Dating Violence:
http://www.nyscadv.org/delta/teen-dating-violence-awareness-and-prevention-month/